Keeping you safe with

security advice and assistance
The challenges of mission life can limit the impact of a missionary's ministry.
Talent Trust provides missionaries with resources to stay physically, mentally, and financially healthy, so they can thrive as long as needed in their calling.
SecuriTT gives you the confidence and readiness to operate globally and securely. Know about travel, safety, security, and health incidents worldwide.
SecuriTT enables you to prepare for, monitor, and respond to potential threats, thereby keeping you safe and secure wherever your calling may take you.
Travel Safety Website
Alerts
Newsletters
Access to Security Analyst
24/7 Hotline
Talent Trust also has an option for evacuation cover from political instability, and natural disasters, and assistance with other life-threatening situations.
Crisis Assistance Program (CAP)
This optional program covers evacuations and crisis response teams during natural disasters and times of political instability.
The Crisis Assistance Program is a full service security assistance program covering evacuations and crisis response teams during life threatening incidents.
CAP Provides Crisis Support in the event of:
• Natural Disasters
• Political Threats
• Terrorism
• Kidnap
• Hi-Jack
• Ransom
• Violent Crime
Along with 24/7 live support, the CAP Advantage App delivers real-time travel risk support to help members steer clear of security threats altogether.
Pricing for CAP is $90/year per adult and $60/year for each dependent child.
Travel to the following countries is not covered:
Afghanistan, Libya, Iran, North Korea, Russia, Somalia, Sudan, Syria, Ukraine, Venezuela, and Yemen.
Comprehensive Service
Our service covers all necessary expenses in a variety of emergency situations with no additional cost. This includes transport and escort to the nearest 'safe haven', relocation home, cover for personal effects, personal accident and return of mortal remains in the event of a death. These can easily run into the $100,000's.
Ensure the Safety of Your Members
Any number of situations can mean your members find themselves in a crisis and in need of expert help. CAP's comprehensive services and app help to ensure the location and safe return of your members from trouble spots around the world.
24/7 Support from Security Specialists
The world can change in an instant. CAP's specialist teams are dedicated to providing your members with 24/7 emergency and crisis support during incidents or periods of heightened insecurity. Whether it's night or day, experts will provide a reassuring source of advice and service during a crisis.
Crisis Management Experts
Your members can rely on experienced teams to help them in emergency situations if their safety is compromised. FocusPoint has delivered proven risk, security, and crisis management solutions in demanding situations.
CAP App
Providing up to date info on the situation for both the member and their support team, info on the member's location, and communication for escape routes and where to meet security teams.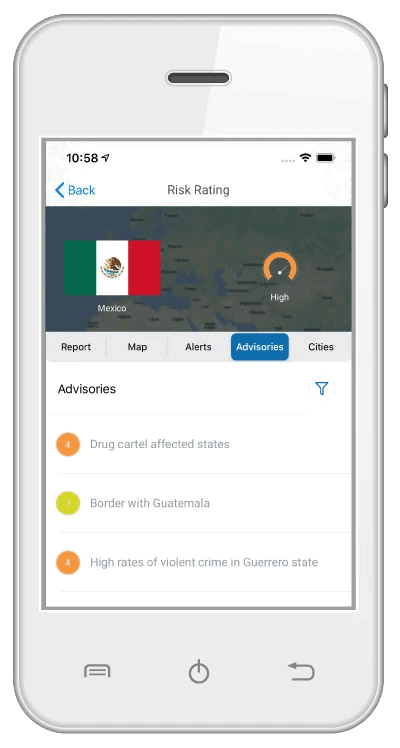 CAP Advantage App Benefits*
CAP Advantage is a location-based services (LBS) application, available for both Android and Apple smartphones, that was originally designed with the traveler in mind. As a travel risk management tool, the CAP Advantage app is used to support corporate duty of care and provide both business and leisure travelers vital optics into destination-based health, safety and security risks, with the ability to seek medical and security assistance with the touch of a button.
In response to the recent and on-going global COVID-19 pandemic, FocusPoint is capable of deploying the CAP Advantage app as a comprehensive communications tool with the added benefits of active monitoring, alerts, response technology, and so much more.
24/7 Live Support & One-Touch Emergency Assistance
Besides on-demand access to concierge services (for non-emergencies), the CAP Advantage App features a one-touch 'ASSIST' button that immediately connects customers to the Crisis Response Center for 24/7 emergency assistance.
Once engaged through the CAP Advantage App, the Crisis Response Center's experienced medical and security teams are able to provide expert advice, and if necessary, deploy a specialized crisis response team to a customer's precise location (with pinpoint accuracy).
International travel assistance is readily available, at the touch of a button.
Country and City Travel Risk Ratings & Intel
Using the CAP Advantage App, CAP customers can readily access country and city risk reports for up-to-the-minute intel on security threats, health advisories, weather conditions, cultural concerns, political issues, and more.
Location-Based Mapping Interface
CAP customers have access to intuitive dashboards and maps that use visual displays of locations (with varying levels of health, weather, and security concerns). Armed with this information, customers can take special precautions to stay safe and/or avoid delays.
Destination-Based Alerts & Advisories
The CAP Advantage App syncs with phones, email, and SMS to ensure that while traveling, customers receive critical communication from the CAP Crisis Response Center. For example, customers can include geofencing alerts for nearby threats (settings may be configured to the user's preferences).
It's international travel assistance in the palm of your hand.
Manual Itinerary Management
CAP customers can plan their trip, managing flight information and status directly inside the app.
GPS-Based Traveler Tracking
The CAP Advantage App leverages GPS technology from smartphone devices to help determine the proximity of nearby threats relative to a customer's current location, among other things. (Some say this feature feels a bit like having a bodyguard following alongside you, making sure you're okay.)
Safety Check-In Button
With the push of the mobile app's 'CHECK-IN button', travelers can confirm their health and welfare, letting the Crisis Response Center and trusted contacts know that they've arrived, safe and sound.
User-Defined Tracking
CAP customers are free to configure and control the CAP Advantage App's GPS-based location sharing features.
Proximity-Based Travel Alerts (if selected during the purchase process)
*Must be connected to Wi-Fi or a cellular network.