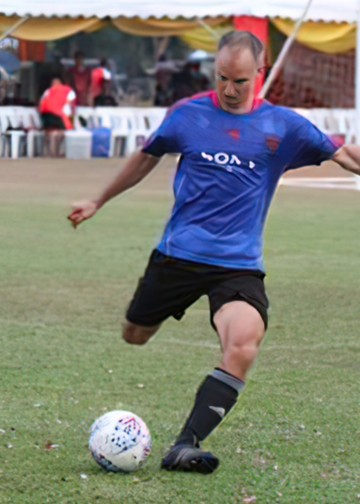 Matt
Wellness 101
Malaysia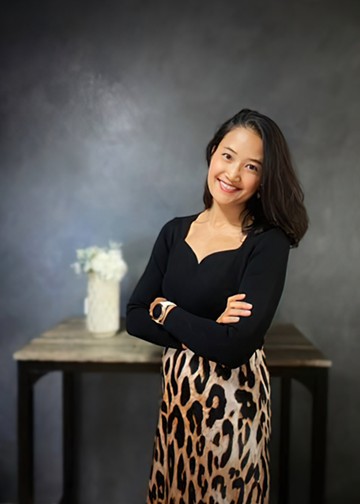 Siree
Healthy Lifestyle
Thailand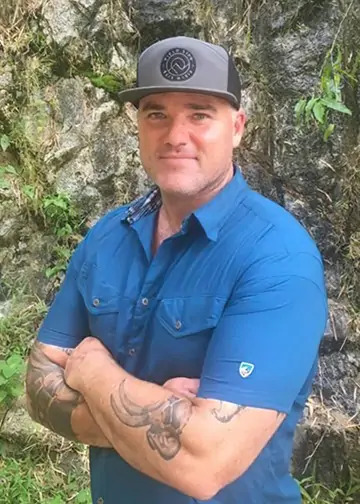 Sean
Functional Fitness
Southeast Asia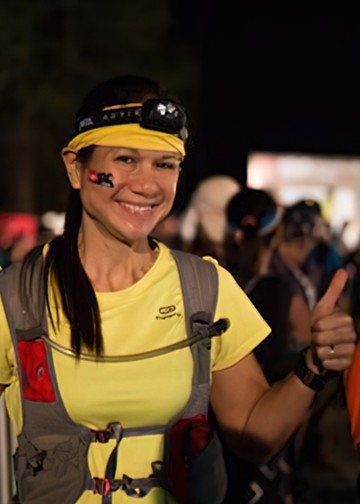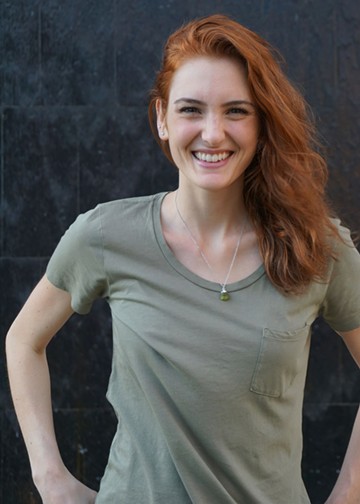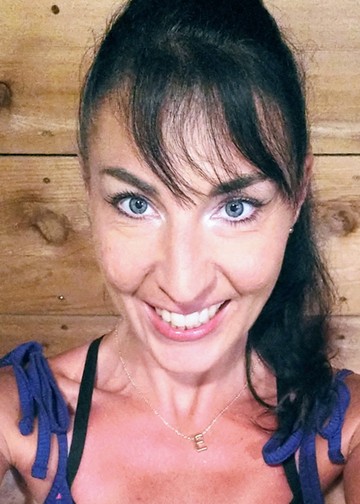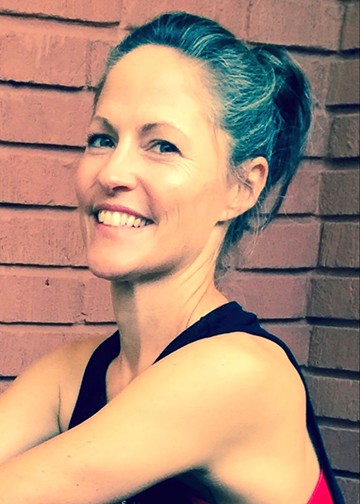 Matt

Cohort Trainer
– "My vision for coaching is to enable, empower and challenge individuals to reach their potential, find meaning, and live a balanced life."
I'm a family man with a lovely wife and three amazing kids. I grew up playing soccer and doing karate at an elite junior level and went on to study sports sciences at university after that. From there God lead us to serve with a mission and development organisation in East Africa and Asia for eight years, doing sport and development related projects with local churches and also government ministries and sports associations. For the past eight years I have worked for a global coaching company, which focuses on holistic performance coaching. My clientele is made up mostly of corporate executives and the focus of my coaching work covers topics like general health, nutrition, physical activity, sleep, and energy management. In addition to this, I'm also involved in member care and BAM related work with the mission and development organisation that we worked with in the past.
Credentials
BSc in Sports Science with Management
MSc in Sports Management
What my cohort will look like
Who do you imagine would benefit most from this cohort?
Individuals who are struggling with their health and wellbeing, but feel like they don't know where to start, or what they should do. They might feel intimidated by some exercise programmes, and don't perhaps feel that they are very athletic. Most likely they've tried some things in the past, and those might have helped, but they struggle to follow through and achieve sustainable changes in their habits.
How would you describe this cohort?
Do you feel that you would want to improve your health, wellbeing, or fitness, but you don't really know where to start, or what you should do? Have you tried different types of diets or exercise programmes, but haven't really been able to make these into sustainable habits? Do you keep pushing back the idea of looking after your health more, because you feel that it will be too hard, or too much work and effort? If these are questions that you can relate to, this cohort could be good for you.
Improving your health and wellbeing does not need to be hard, nor does it require going on a very restrictive diet and doing high intensity exercise each day. It's all about small changes that you can implement sustainably in your everyday life, which ultimately lead to significant results.
What would you aim for the outcomes of this cohort to be?
Building confidence in looking after your own health and wellbeing
Getting clarity on what type of changes I can make in my life, which are suitable next steps for me.
Achieving small improvements in some relevant health markers during the 6 weeks, but more so, providing tools for continuing the journey beyond that
What might weekly interaction look like between you and the participants, and among themselves?
A weekly group call

During the first call we will be focusing on what needs to change, or what you want to
improve. We'll reflect on why, to explore motivation, and start to think about how, to find
the biggest wins in terms of where to start. We will also discuss key behaviour change
issues around motivation, capability, and opportunity.
The following calls will focus on gradually progressing towards your goals and
providing further guidance on topics related for example to exercise, nutrition, sleep,
and behavior change in general. The exact content of the calls will depend on the
needs and progress of the participants.

A group chat could perhaps be possible for sharing and support.
What might weekly "programming" look like?
I would most likely not do specific weekly programming. I would rather give homework and aim to get participants do their own programming. I could naturally give examples and options of sources where they could go to for support.
Siree

Cohort Trainer
"Your life purpose isn't to lose weight. Achieving better health is about more than simply shedding the pounds, improving muscle tone or achieving a lean physique. We are both body and spirit and I incorporate this in my whole-person health coaching."
I actually have a background in Business and Economics but a health crisis in my family made me appreciate the importance of health and recognizing that many trade-off health for "success" in life. As I already had a personal passion about health/exercise/nutrition, I decided to make a career pivot to focus on helping others use health as a resource for life and adding value to the world. Knowing first-hand how hard it is to serve when you have health issues, I am empathic to my clients who are trying to do their best in life with the health conditions they have.
In addition to being a John Maxwell certified coach and trainer, I am a certified Health Coach, Personal Trainer, and Fitness Nutrition Specialist.
Credentials
Personal Trainer, American Council on Exercise (ACE)
Health Coach, American Council on Exercise (ACE)
Fitness Nutrition Specialist, American Council on Exercise (ACE)
What my cohort will look like
Who do you imagine would benefit most from this cohort?
Someone who would like to troubleshoot some health issues and is serious about getting healthier in areas of daily movement, nutrition and rest. The participant would be interested in the topics of setting nutritional goals, choosing tasty and nutrient-dense food for themselves and their family, learning practical stress management and working-in techniques to reduce cortisol levels and burn excess fat.
How would you describe this cohort?
Health is a gift and it is a vital resource for us to serve others. When we neglect taking care of our bodies, we can end up paying for it later through higher medical bills and insurance premiums. So that we can fulfill the work that God has called us to do, we need to be responsible for our overall health as well.
The purpose of this cohort is to support you in caring for your whole person health in the specific areas of movement, nutrition and rest.
Most people know what they need to do to get healthier, but putting in place habits to get them going in the right direction is a challenge. Health coaching as a group is effective in helping participants start and maintain new habits together.
Participants will get free access to my Udemy course "Nourish Away Your Fat" and go through the course together as a group.
What would you aim for the outcomes of this cohort to be?
Appreciate that health is a resource for everyday living and serving. Be empowered to minimize the risk of non-communicable diseases such as cardiovascular diseases, adult-onset diabetes, and abdominal obesity.
Replace any kind of "diet mentality" with grace-based choices appropriate for their body and lifestyle.
Understand the power of habits. Identify positive and negative habits.
Learn and apply practical techniques to achieve efficient metabolism of food as fuel.
Learn working-in and stress management techniques to help the body return to rest and digest daily.
A safe space to learn from one another. In a group coaching session, participants have the opportunity to hear experiences of how others have overcome their similar health struggles in the past.
What might weekly interaction look like between you and the participants, and among themselves?
A weekly group coaching call on a specific health topic as they take the "Nourish Away Your Fat" course
Staying connected during the week via a Telegram group
Weekly Zoom group coaching calls (60 mins)
What might weekly "programming" look like?
Daily habit check-in
Weekly Food Diary
Creating their own meal plan and submit to the group every Sunday evening.
Sean

Cohort Trainer
– "I believe anyone can make progress in their personal fitness. When you do, your quality of life is elevated to the next level as well."
I've been a competitive athlete most of my life. I was raised in the US and grew up playing a myriad of sports and went on to play collegiate rugby. Not long after university, my wife and I moved to China where we served for the next 10 years. From there, we've lived in Costa Rica, then Kenya and now we are based in Southeast Asia. We've been privileged to raise a big family of six kids internationally.
I have continued to play and coach rugby at each stop. Since 2012 my primary fitness regimen has been CrossFit. I love the scalability and variety it offers. I became a certified Functional Fitness trainer in 2018 and have placed in the top 10% in Asia for men aged 40 and above at the worldwide CrossFit Open competition for the last four years.
Credentials
Certified CrossFit Coach CFL1
Certified CrossFit Masters Athlete Trainer
What my cohort will look like
Who do you imagine would benefit most from this cohort?
Men who are wanting to get fit or stay fit. Generally already have the motivation to get up and get going and maybe also have some experience with exercise and have a general idea what their work capacity is. This program will work well for the beginner and intermediate participant as it can be "scaled" to meet the challenges for each person.
How would you describe this cohort?
Do you want to improve your fitness and feel better? Do you want to learn foundational movements that will help you be more confident in your everyday life?
Functional fitness exercises train your muscles to work together and prepare them for daily tasks by simulating common movements you might do at home, at work or in sports. Examples are carrying groceries, picking up heavy objects and placing them on a shelf, or playing soccer with your kids.
We combine short, high intensity workouts as well as slower, measured workouts and combine formats to build stronger and leaner bodies.
What would you aim for the outcomes of this cohort to be?
Understand how to move your body in a safe, efficient and fun way.
Set and meet realistic goals for weight loss.
Increase your capacity to work and play.
Feel more confident designing your own functional fitness workouts to do at home, at the park, in the gym or in a hotel.
Camaraderie and support from cohort peers.
What might weekly interaction look like between you and the participants, and among themselves?
A weekly group call
Getting to know each other and sharing experiences of workouts together
Asking questions, coach modeling and demonstrating movements, etc
One-on-one call with coach as needed and available
Whatsapp group for peer encouragement
What might weekly "programming" look like?
3-5 Workouts for 30 minutes maximum
Lyn

Cohort Trainer
– "Life is the ultimate endurance race. The GRIT you develop through physical training will strengthen your mind and character. None of us can run this race of life alone. Let's do this together!"
As a TCK, I spent my childhood years in Southeast Asia. After a short stint in the USA for college, I returned to Southeast Asia and have lived cross-culturally all my adult life in Malaysia, Indonesia, and currently Thailand. Answering the question of where I am from is difficult for me, but I am confident in where I am heading: heaven. Keeping that eternal perspective has helped me through the ups and downs of life. After teaching high school math for 9 years, I took a career shift; and now I am a full-time mom and part-time fitness class instructor and personal trainer. I love working out with other people because together we build community and keep each other motivated to reach our goals. I started running (actually, slowly jogging) in college for weight loss and physical health. Twenty-five years later, I can attest to how running and exercise has been crucial not only to my physical health but also to my mental wellbeing. Some highlights of my running career include winning the 2019 North Face Thailand 100km ultra and winning the 2020 KMK50 km ultra in Thailand.
Credentials
AFAA Certified Group Fitness Instructor (AFAA-CGFI)

NASM Certified International Personal Trainer (NASM-ICPT)

Licensed ZUMBA Instructor

Licensed STRONG NATION Instructor

What my cohort will look like
Who do you imagine would benefit most from this cohort?
Women who want to improve/maintain their fitness in a positive and supportive group environment as a team with other like-minded women.
How would you describe this cohort?
Looking for a small community of encouragement and motivation to get you moving? Join us because fitness is better together!
 As a team we will work together to spur each other on towards our health and fitness goals. Even a small step in the right direction makes a positive difference.
What would you aim for the outcomes of this cohort to be?
Each cohort member will have set and taken steps towards accomplishing her own health and fitness goals.
Each cohort member will have motivated and encouraged her teammates toward their goals each week.
What might weekly interaction look like between you and the participants, and among themselves?
Each week we will meet as a cohort to exercise together, to share our past week's fitness experiences, to celebrate the victories (no matter how big or small), and to encourage each other to stick to our goals.
We will have a WhatsApp group for peer encouragement.
I will be available as needed for one-on-one coaching.
What might weekly "programming" look like?
 At the beginning of the cohort time, each team member will set a fitness goal for herself. Each week she will choose to do workouts that will help her make progress toward achieving her goal.
We will have one cohort workout together each week as a group.
Each week I will host additional workouts that are optional but encouraged for cohort members to join.
I will also offer guidance and direction each week as needed for team members to choose
individual workout options that will help them accomplish their goals.
Lyndsey
– "Women everywhere can raise flourishing families by nourishing themselves."
Nutrition has always been an integral part of my life. At the age of 10 I was a junior elite gymnast. Over the years I cross-trained and competed in gymnastics, springboard diving, trampoline, and power tumbling. I recruited for NCAA Division I Athletics for both gymnastics and springboard diving, ultimately chose diving, and helped my team win 3 1st place conference championship titles throughout my 4 years. Nutrition has always been important to me personally, as remaining healthy and strong is essential in performing high level sports. Additionally, I have always had a propensity towards science and medicine. I told my parents I wanted to deliver babies around the world when I was 9. I watched reality medical shows instead of cartoons, volunteered at crisis pregnancy agencies, and developed a deep appreciation for what mothers' bodies can do throughout pregnancy, childbirth, and lactation.
I am thankful to God that He placed interests and passions in me but did not stop there. He continued to grow those desires in me and provide opportunities for them to flourish. Throughout life's journeys, God led me to a Public Health program in the Global Health capital of the world at a Top 5 school. There I was able learn about nutrition for women of reproductive age before, during, and after pregnancy/lactation. I focused on maternal under nutrition and the interplay between culture and nutrient consumption. I love working with women, families, and communities on affordable, convenient, culturally appropriate, and adequate dietary intakes.
My husband and I currently live in Thailand. I work with Burmese migrants/refugees on the Thai-Myanmar Border and he teaches high school art at an international Christian school. We love to bake, cook, visit museums/galleries, swim, hike, explore, and immerse in new cultures and indulge in new cuisines.
Credentials
Master of Public Health (MPH)
Concentration: Nutrition
Certificate: Maternal and Child Health (MCH)
Certifications: Virus Safety
Biosafety
Bloodborne Pathogens
Erin Anderson
– "I'm primarily about helping people discover growth in 4 areas: EAT (holistic nutrition), MOVE (functional movement/ training), REST (resting well/ true self care) and HEAL (healing toxic mindsets around food and bodies)"
I am a Licensed Diplomat of Pastoral Science and Medicine who works virtually with clients to support their whole health and wellness (spiritual, physical, and emotional). I am also a Functional Nutritional Therapy Practitioner specializing in holistic nutrition and have previously worked as a Weight loss Coach and a Certified Group Exercise Instructor in the past. I am Australian by birth and have lived in Australia, Hong Kong, Malaysia and now reside in the USA. I have been married for 12 years to my husband, Chad, and we have 2 kids ages 10 and 8. As a family we enjoy hiking, weight lifting, mud runs and mountain biking.
Credentials
FNTP (Functional Nutritional Therapy Practitioner)
D.PSc (Diplomat of Pastoral Science and Medicine)
Member of the Missouri Nutrition Alliance (MNA)
Mandi
– "You don't have to be EXTREME, just CONSISTENT."
With some inherited health issues becoming apparent in my 20's and 30's, I have become more and more aware of just how powerful the gifts of habits are in exercise and nutrition for maintaining a vibrant life on the field. I'm convinced that habits and fun can go hand in hand when done in the accountability of community. Barre is a fun, low impact, yet intense and upbeat fitness program. Expect to build lean muscle, improve flexibility, and increase endurance. Grab some friends and and make it a party.
I've been married for 23 years and, together, my husband and I have served Internationally for 20. We have 3 kids at home and 3 now attending university.
Why? 
Because we believe the challenges of life on the missions field can limit the impact of a global worker's ministry. We provide missionaries with the resources to stay physically, mentally and financially healthy, so they can thrive as long as needed in their calling.